Lanzarote is of volcanic origin. The island was created about 35 million years ago by the Canary hotspot. Alfred Wegener arrived in 1912 and studied the island and showed how it fitted in with his theory of continental drift. The island along with others was created after the breakup of the
African and the American continental plates.As of 2006, a total of 127,457 people lived on Lanzarote. The seat of the island government (Cabildo Insular) is in the capital, Arrecife, which has a population of 55,203. The majority of the inhabitants (73.9%) are Spanish, with a sizeable number of residents from other European nations, mainly British (4.0%), Germans (2.6%) and Irish (2.5%). Other populous groups include immigrants from Colombia, Morocco, Ecuador, Western Africa, China and India, which constitute for a large proportion of the remaining 15.6% of the population.The island has its own international airport, Arrecife Airport, through which 5,626,337 passengers travelled in 2006
. Tourism has been the mainstay of the island's economy for the past forty years, the only other industry being agriculture.

Tourism Site

Arrecife
If you want to catch a more modern and metropolitan side of Lanzarote then visit Arrecife, the islands capital. Here you will find a lively port city, shaped both by its seafaring past and its current, rapid regeneration.
Arrecife is home to around half the island's inhabitants, with a population of some 45,000 and boasts shopping galore, beaches, parks, promenades, nightlife and all of the attendant urban hustle and bustle.

Haria
Widely known as the valley of 1,000 palms, Haria has much to offer the visitor who wants to see a real slice of Lanzarote.
A rural community, cut off from much of Lanzarote, the town is starting to recover it's golden past.
San Bartolomé
San Bartolomé lies right in the heart of Lanzarote — both geographically and culturally. Find out all about it in our Visitors Guide to San Bartolomé.

La Villa de Teguise
Teguise was the capital of the island for hundreds of years, until it lost this title to Arrecife.
Now largely ignored by tourists — other than for the Sunday Market — it remains a great place to visit in the week, as it has some excellent architecture and remains relatively quiet.
Tias
Despite being one of the oldest and most important towns on the island Tias doesn't often feature very prominently in many tourist guides and, on the face of it, appears to boast few major attractions.
Yet this busy town, overlooking the main resort of Puerto Del Carmen, is home to a Nobel prize winner as well as a growing army of ex-pats. It also boasts a growing reputation as a destination in it's own right and is the conduit through which the vast majority of the island's sizeable tourist revenue flows.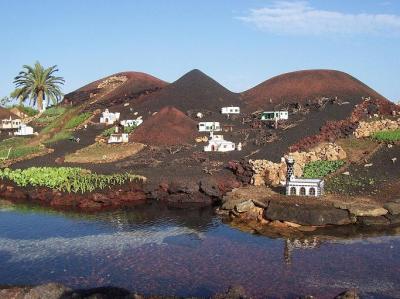 Yaiza
Voted the Prettiest village in Spain on more than one occasion, Yaiza is a quiet and tranquil place to explore.
Lucky to still be here at all, because of it's proximity to the volcanoes at Timanfaya, it should be on any visitors list of places to see.
Coastal Villages
There are still a number of small, sea-side villages which have escaped the developers excesses found in the main resort areas.
Caleta de Famara
Small fishing village on the North-West coast, which is highly popular with local and international surfers.
With some stunning views, bracing walks and a selection of nice — if simple — restaurants, it has much to offer if you want to chill out for a while.

Playa Quemada
Just a few kilometres South of Puerto Calero, this is a very small village, where the houses spill right onto the black, volcanic beach.
It certainly offers an insight into what Lanzarote used to be like, before it was discovered by the tourist trade.
Festivals
Carnaval — which takes place at the end of February to the Beginning of March — attracts many visitors from all over Europe, joining the local residents in their celebrations.
The end of July signals the Fiesta de Carmen, patron saint of Puerto del Carmen. Visitors again make the population swell as folklore performances, singing and dancing fill the night until the early hours of the morning. Specially decorated fishing boats setting out to sea, to pray for good catches in the coming year, signals the end of this particular fiesta.
Transportation
Buses To and From Arrecife Airport
Most tourists are transferred to their resort accommodation by coach, courtesy of their tour operators, or by taxi. There are no airport shuttle buses to the main resorts.
But there is a public bus that services Arrecife Airport. However, this route is very limited – running solely in between the main bus depot in the nearby island capital of Arrecife and the airport.
This service runs is in the opposite direction to the resorts of Playa Blanca, Puerto del Carmen and Matagorda. So unless you have a lot of time to kill or are on a very tight budget this is not the best option for reaching your accommodation quickly and comfortably.
Tourists staying in Costa Teguise however can take the bus to Arrecife bus station and then get a connection onto Costa Teguise from there. Again, this would still be a relatively time consuming option – despoite the short distances involved.
The public bus service runs directly from outside the arrivals hall at Terminal 1. The bus line number is 22 or 23. Journey time from the airport to the bus depot in Arrecife is around 20 minutes. The fare is approxinmately €1.
For a full bus timetable visit Arrecife Buses.
Taxis To And From Lanzarote Airport
The taxi rank is located directly outside the arrival hall at Terminal 1.
You can find up to date taxi pricing for transfers to all parts of the island by visiting the official Lanzarote taxis website. Where it is also possible to book a transfer direct online.
NOTE – passengers can be subjected to lengthy queues for taxis on arrival – especially on peak days such as Thursdays (the main changeover day on the island) and during the busiest periods of the year.
Taxis are metered. Tipping is at your own discretion. Passenger numbers are limited to four people per taxi.
Lanzarote Airport Transfers
Book a private airport transfer online. Visit our airport transfers booking page for more information.
Taxis :: In Resort
Taxis are a relatively cheap way of getting round your resort as short hops usually cost little more than a few euros.
A taxi is free for hire when displaying a green light and can be flagged down in the street. Alternatively, there are taxi ranks throughout all of the main resorts.
Taxi ranks can also be contacted on the numbers below – however it is pot luck as to whether the person answering your call can speak sufficient English to understand you.
Arrecife: 928 812710
Costa Teguise: 928 590863
Playa Blanca: 928 830163
Puerto del Carmen: 928 524220
Teguise: 928 845533
Buses Around The Island
There is a public bus service on Lanzarote and it is both cheap and reliable. However, the frequency of service in areas outside of the main resorts and conurbations is not always conduicive for sightseeing.
For full timetables across the island visit Arrecife Buses.
Lanzarote Car Hire
Car hire on Lanzarote is realtively inexpensive – starting from around €17 per day for a basic model such as an Opel Corsa. There are many different companies to choose from – all in truth offering fairly similar levels of pricing and service. Visit our Lanzarote Car Hire page for further information.