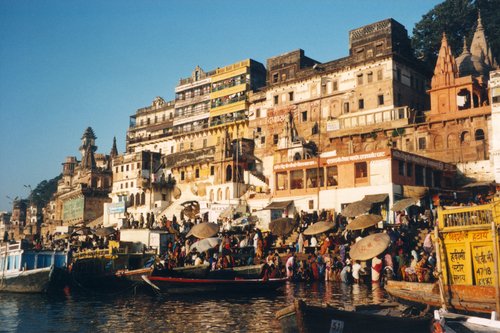 The land of Varanasi (Kashi) has been the ultimate pilgrimage spot for Hindus for ages. Often referred to as Benares, Varanasi is the oldest living city in the world. These few lines by Mark Twain say it all: "Benaras is older than history, older than tradition, older even than legend and looks twice as old as all of them put together". Hindus believe that one who is graced to die on the land of Varanasi would attain salvation and freedom from the cycle of birth and re-birth. Abode of Lord Shiva and Parvati, the origins of Varanasi are yet unknown. Ganges in Varanasi is believed to have the power to wash away the sins of mortals.
Kashi Vishwanath Temple
Standing on the western bank of India's holiest river Ganges, Varanasi is the oldest surviving city of the world and the cultural capital of India. It is in the heart of this city that there stands in its fullest majesty the Kashi Vishwanath Temple in which is enshrined the Jyotirlinga of Shiva, Vishweshwara or Vishwanatha. Here gravitate the teeming millions of India to seek benediction and spiritual peace by the darshan of this Jyotirlinga which confers liberation from the bondages of maya and the inexorable entanglements of the world. A simple glimpse of the Jyotirlinga is a soul-cleansing experience that transforms life and puts it on the path of knowledge and bhakti.
Vishweshwara Jyotirlinga has a very special and unique significance in the spiritual history of India. Tradition has it that the merits earned by the darshan of other jyotirlinga scattered in various parts of India accrue to devotee by a single visit to Kashi Vishwanath Temple. Deeply and intimately implanted in the Hindu mind, the Kashi Vishwanath Temple has been a living embodinent of our timeless cultural traditions and highest spiritual values. The Temple has been visited by all great saints- Adi Shankaracharya, Ramkrishna Paramhansa, Swami Vivekanand, Goswami Tulsidas, Maharshi Dayanand Saraswati, Gurunanak and several other spiritual personalities.
Rituals
The Temple opens daily at 2.30a.m. in Mangala Aarati 3 to 4 a.m. ticket holders are permitted to join. From 4 to 11 a.m. general Darshan is allowed. 11.30 to 12 a.m. mid day Bhog Aarati is done. Again 12 noon to 7 p.m. devotees are free to have darshan. From 7 to 8.30 p.m. evening Sapta Rishi Aarati is done after which darshan is again possible uptill 9 p.m. when Shringar/Bhog Aarati starts. After 9 p.m. Darshan from out side only is possible. Shayana Aarti starts at 10.30p.m.The Temple closes at 11p.m.
Durga Temple

Durga temple, also known as the "monkey temple" is one of the important temples of Varanasi. This temple is dedicated to Goddess Durga. The Durga temple was built in the eighteenth century. A Bengali Maharani built the Durga temple in Nagara Style (the North Indian style of temple architecture). It is stained red with ochre and has a multi-tiered shikhara (spire). The Durga temple is situated on a rectangular tank, called the Durga Kund. According to the Puranas, Goddess Durga has kept this place for many centuries and protects the holy city, Varanasi, from the South. According to legends, the present statue of Goddess Durga was not made by man but appeared on its own in the temple. The Durga temple is also called Monkey temple because of the presence of large number of monkeys. In Hinduism, Durga is represented as the embodiment of shakti or female power, clad in red, riding a tiger and fully armed with Shiva's trident, Vishnu's discus and a sword. Non-Hindus can enter the courtyard of the Durga temple but not the inner sanctum. Thousands of Hindu devotees visit the Durga temple during Navratri and other auspicious occasions.
Bharat Kala Bhavan
Bharat Kala Bhavan, located inside the BHU campus, is an art and architecture museum and houses a vast collection of paintings, Hindu and Buddhist sculptures and other materials of archeological importance. The Bharat Kala Bhavan was established in the year 1920 A.D. In the main hall of the Bharat Kala Bhawan, there is a figure of a man standing on one leg and one hand on his hip and lifting a mass of stone above his head, with one hand. The figure is said to be of Lord Krishna, lifting Mount Govardhana. Many images in the Bharat Kala Bhavan confirm to the existence of Krishna cult in Kashi in 15th and 16th century. Bharat Kala Bhavan also has a great collection of miniature paintings from the courts of Mughals and other Kingdoms and principalities. Some of the important sections in the Bharat Kala Bhavan are Mahamana Malaviya gallery, Nicholas Roerich gallery, Chhavi (Painting Gallery), sculpture gallery, Nidhi (Treasures) gallery, sculpture gallery, archaeological gallery, decorative art gallery and Banaras through ages gallery.
The Banaras Hindu University
The Banaras Hindu University or BHU is an internationally reputed University and is situated in Varanasi. The great nationalist leader, Pandit Madan Mohan Malaviya, founded the Banaras Hindu University in the year 1916. Dr Annie Besant also played an important role in the formation of the BHU. The Banaras Hindu University played an important role in the Indian independence movement. Over a period of time, it has developed into one of the greatest centers of learning in India. The BHU has produced many great freedom fighters and Nation builders. It has immensely contributed to the progress of the nation through a large number of renowned scholars, artists and scientists. The Banaras Hindu University has a sprawling campus, spanning across 1300 acres. It has well maintained roads (crossing each other at right angle), extensive greenery, a temple, an airstrip and buildings, which are an architectural delight. There is another campus of the Banaras Hindu University at Barkachha, in Mirzapur district, covering an area of 2700 acres. The BHU comprises of 3 Institutes, 14 Faculties, 124 Departments, 4 Interdisciplinary Centers and 3 Constituent Schools, spanning a vast rang of subjects pertaining to all branches of humanities, social sciences, science, technology, medicine, fine arts and performing arts. Banaras Hindu University also has 6 centers of advanced studies, 10 Departments under Special Assistance Programme and a large number of specialized Research Centers. There are four Degree Colleges in Varanasi that are affiliated to the BHU. The Bharat Kala Bhavan, an art and archaeological museum, is a treasure trove of rare collections. The Banaras Hindu University also has a medical college (Institute of Medical Sciences) and an engineering institute (Institute of Technology). Sir Sundar Lal Hospital (having a capacity of 927 beds) is equipped with all the modern amenities and caters to the medical needs of a large population. The University also provides for a well-developed sports infrastructure. BHU has wide range of facilities for sports and hobbies. It has large playgrounds, a big auditorium, a flying club and many other services and utilities like Printing Press, Publication Cell, Fruit Preservation Center, subsidized Canteens, Employment and information Bureau, Security, etc. The Banaras Hindu University consists of about 15000 students, coming from to all streams of life, castes, religions and races. It has about 2000 teachers and nearly 5000 non-teaching staff. Another important feature of the BHU is the number of foreign students. A large number of students come from the U.S.A., Europe, Asia, Middle East, Africa, etc.
Jantar Mantar
Jantar Mantar is an observatory, built by Jai Singh
, the Maharaja of Jaipur in the year 1737. Jai Singh was a great admirer of science and technology and he was particularly passionate about astronomy. Before the commencement of construction (of observatories) he sent scholars abroad to study the foreign observatories. The emissaries returned with many manuals on astronomy. The Jantar Mantar at Varanasi was built in line with Delhi, Mathura, Ujjain and Jaipur observatories. The Jantar Mantar was built to measure the local time, the Sun's declination, altitude, the declination of stars, planets and to determine ecli
pses The Jantar Mantar at Varanasi has several masonry instruments to record the motion, speed and properties starts and planets and study astronomy that are accurate and can still be used efficiently today. The Jantar Mantar incorporates multiple structures of unique form, each with a specialized function for astronomical measurement. These structures with their striking combinations of geometric forms have captivated the attention of architects, artists, and art historians. Originally, there were many yantras (instruments). Some of the important ones are the Krantivritta Yantra, Digansha Yantra, Samrat Yantra, Prakash Yantra, Ram Yantra, Disha Yantra and Dhruva Yantra.
The Ramnagar fort
The Ramnagar fort lies about 14 km. from Varanasi and is situated on the opposite bank of river Ganga. It is the ancestral home of the Maharaja of Banaras. Maharaja Balwant Singh built this fort-palace in the eighteenth century. The fort is built in red sandstone. The Ramnagar fort has a temple and a museum within the grounds and the temple is dedicated to Ved Vyasa, who wrote Mahabharata, the great Indian epic. Legends have it that Ved Vyasa stayed here for a brief period. The Ramnagar fort houses a museum displaying the Royal collection which includes vintage Cars, Royal palkies, an armory of swords and old guns, ivory work and antique clocks. The Durga Temple and Chhinnamastika Temple are also Located at Ramnagar. A temple of Dakshin Mukhi Hanuman is there. Inside the giant walls of the Ramnagar fort-palace, there is a big clock. This clock not only displays year, month, week and day but also astronomical facts about the sun, moon and constellation of stars. An interesting array of ornate palanquins, gold-plated howdahs and weapons are some of the artifacts on display in the Ramnagar fort-palace museum.
Transportation
Air
Varanasi is well connected and accessible to major Indian cities and tourist spots. There are daily domestic flights to and from Varanasi to several cities in India. Apart from the state owned Indian Airlines, there are many private air
taxi operators that offer their services from Varanasi to other Indian cities. In fact, the daily flights on Delhi-Agra-Khajuraho-Varanasi route are quite popular among the tourists.
Rail
Since Varanasi lies in the heartland of the North Indian plains, it is well connected to Delhi, Kolkata, Mumbai and other parts of India. There are two railway stations in Varanasi, the Kashi Junction and the Varanasi Junction (also known as Varanasi Cantonment). Rajdhani Express from Delhi or from Calcutta passes through Varanasi too. One can also catch trains from Mughalsarai, just 10 km south of Varanasi.
Road
Situated in the flat Ganga plains, Varanasi has a good network of roads. frequent public and private buses and road transport to all the major towns of Uttar Pradesh and nearby areas.